Slow Jams Studio Tour
Slow Jams studios over the years…
I'm in radio, so I move! Luckily, not as much as others…taking down and putting back up a broadcast studio sure is a pain in the arse…but I have been fortunate to live in some very cool place, and occasionally even score some amazing views from behind the console. I hope you enjoy…
Tucson, AZ Studio: 2001 – 2007
This was my very first studio. I'd just bought my first house and decided to turn the small office into a studio. I built the room piece by piece, scooping up one piece of used broadcast equipment at a time, from eBay, until I was ready to have it all put together. I hired a carpenter to build the furniture and the station engineer to wire it all up. It was all so exciting!
---

Hollywood, CA Studio : 2005
A super-temporary set-up in the living room of my Hollywood apartment. I broke the lease early to get outta Hollywood and over to Burbank…Hollywood wasn't my scene.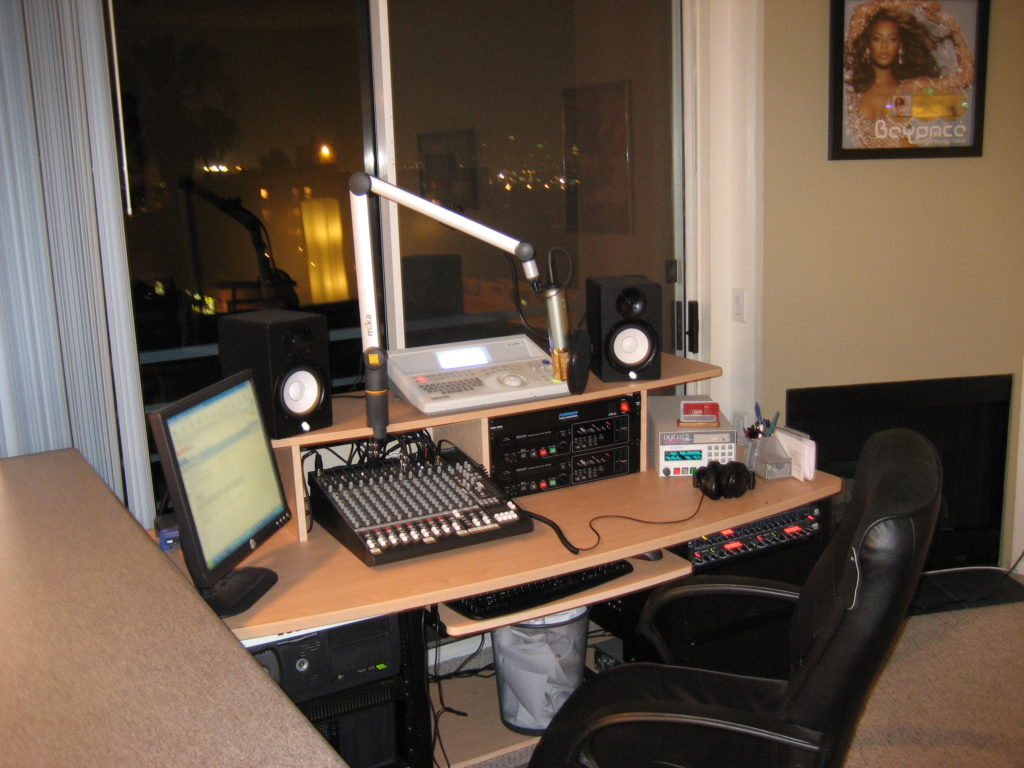 ---

Burbank, CA Studio : 2005–2007
Burbank was much more my speed and it was nice to have an extra bedroom to use as a studio.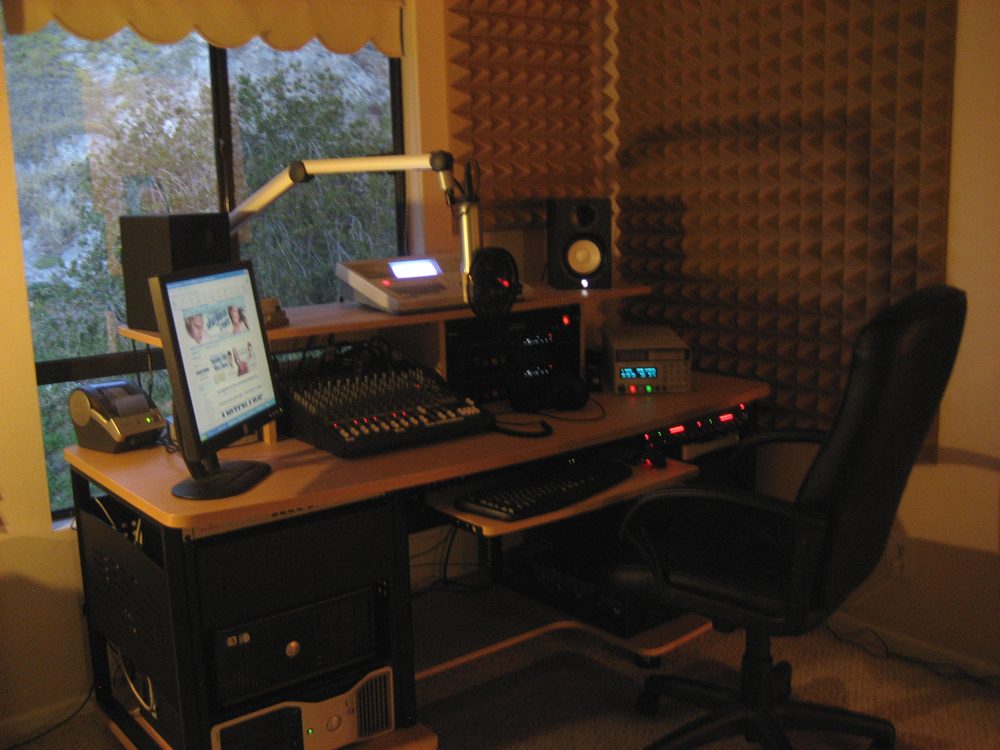 ---

Brasil Studio: 2007 – 2009
It pains me that I didn't take more photos and video of my little Slow Jams studio on the 20th floor of my Recife, Brasil apartment. It was amazing to host Sunday Night Slow Jams while looking over the moonlit ocean.
---

La Jolla, CA Studio: 2011
My first place in San Diego…I didn't stay in this house long, but it sure was nice! I don't have any photos, but did roll some video:
---

San Diego, CA Studio: 2011-2019
This was one of my favorite studios…very comfortable, functional and custom. As you can see, I used the broadcast furniture from the Tucson studio and added a Formica top. I also brought in the custom (and very heavy) wooden CD shelves from KRQQ-Tucson. I had them trimmed to fit my wall, stripped and re-lacquered. The result was awesome.
---

San Diego, CA Studio: 2019 – present
The dream studio is currently under construction, and you're getting the first look. To make this studio ultra-custom, I ran the wires through the floor to the "rack room" (a.k.a. the closet). I also had a custom, live-edge wooden desk made. I upgraded to a bad-ass SAS iSL20.2 digital board (which is the Rolls Royce of consoles).

The studio is not done yet…I'm waiting on acoustic wall treatments. I'll post the final product when it's all done hopefully before 2021).

To be continued…
Check back soon…I will post photos and videos of the finished product here!